PC Patrol®, A wireless security system using the PC for home and office security. Captures video and get notified by pager or cell phone only when motion detectors are triggered. Converts any PC into a powerful wireless security System in minutes.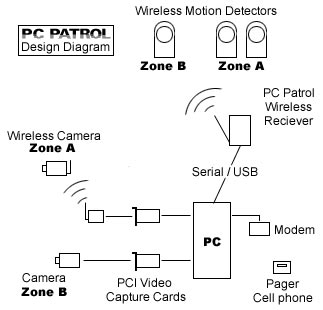 Click here to learn more about PC Patrol Software
For MS-Windows 9x, NT, XP and 2003 Servers and Workstations
Download PC Patrol Software Now !
(requires hardware to work properly)
PC Patrol® can capture video from any two independent video inputs (USB Cameras, Wireless Cameras, Video Capture Boards, etc.) Up to 30 frames per second from both cameras at the same time. Video files directly saved to the hard drive in .Avi format. Get notified via your pager or cell phone during an intrusion. PC Patrol® can alert you when someone enters your office or shop by playing a simple sound file.
Design your own Security with PC Patrol®
PC Patrol® reacts according to your environment configuration . Two Levels of monitoring (Level 1 & Level 2) and Two Zones with unlimited sensors per zone, PC Patrol™ gives you an immensely powerful and versatile system for your personal security. You can have multiple configuration on Level 1 for morning, noon, and night time to achieve the best respond to a security breach. Learn more about the PC Patrol® software, click here...
Are cameras uncomfortable, or inappropriate for your environment? PC Patrol® Infrared wireless motion detectors use body heat to detect for a security breach. With PC Patrol® you get all the security you need with out losing your own privacy.
System Specification
Wireless Frequency is 303 MHz
130 feet maximum transmission range
Two Zones System
Unlimited number of sensors per zone ( i.e. motion detectors)
One camera per Zone.
System Requirements & Options
486 with 32 MB or above
Free Serial Port or USB Port
Modem (optional for paging)
Sound card (optional to play sound)
PC Camera (optional to record video)
What do I need to do to order ?
It's simple ! PC Patrol® can monitor two zones (areas), so start by selecting what you want to install in each zone. You can have a camera, IR motion detectors, magnetic door sensors or garage door sensor in each zone. Remember, in each zone, you can setup one camera and unlimited number of motion detectors or other sensors to trigger the camera to record video. Select the right sensor and camera here... Click here...